Why Add a Drywall Access Panel When Making Drywall Repairs?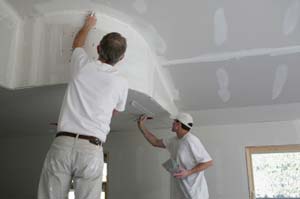 If you've ever had plumbing problems, you may have experienced times when your plumber had to tear through your drywall to get to the pipes. Unfortunately, there are times when you can't help causing damage to the drywall and this is true when your plumbing springs a leak in the walls of your home.
Plumbing leaks usually occur where connections are made, so it's no surprise that a good number of them occur behind your shower and bathtub wall. Unfortunately, it's rarely easy to get to these areas because they are situated on a wall in your bathroom that is likely covered by tile or a tub surround that blocks access.
Access panels are a great idea if you've needed plumbing repairs. They will give your plumber an easy way to access the plumbing instead of having to rip through your drywall.
Access panels also allow electricians to repair your electrical wiring or connections more easily. So the next time you have drywall repairs that need to be made, consider having access panels installed.
They can also be used for easy access to a water shut off valve for the homeowner so that when necessary you can quickly turn off the water to a sink or other fixture. The shut off valve would be installed in the wall and would be connected to your plumbing system. With this method, the valve will be hidden and out of sight.
One of the best drywall access panels is made of drywall with a frame supporting it. This style of panel, instead of the plastic or metal types will blend better with your décor and not make the area look cheapened.
These panels come in various sizes and can be made to to fit the area that you want access to. You can easily have a custom made access panel if standard sizes won't fit right. The panel is made to fit in between the standard support framing of your home.
You have options in making the panel hinges or completely removable. While it's better to install an access panel when the walls of your home are being built, they are also easy to install by professional dry wall repair companies like ours here at Big Green Men.
We are fully experienced at repairing drywall and can install an access panel wherever you need it. Drywall may seem easy to work with, but it does take several years experience to make professional repairs. Drywall repairs should never be obvious. The surfaces of your walls should look uniform and smooth with no nails, screw, drywall tape, dents, bumps, or gaps.
We'll first discuss what type and style you would like to fit your home's décor and will take measurements so we know what sized panel you need.
We'll then install your drywall access panel and finish up your wall. Access panels should be installed by professionals only because you're at risk of shock or leaks from your plumbing, and only pros should be working on those areas.
Drywall repair is no problem for our technicians here at Big Green Men. We have over fifteen years of experience in South Florida, and we strive to serve our customers with 100% satisfaction.
Give Your Coral Springs Pressure Washing & Industrial Specialist a Call Today!