South Florida No Pressure Roof Cleaning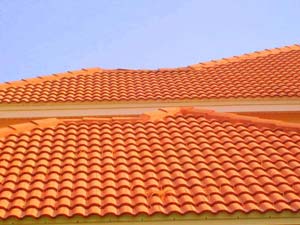 Too many companies still rely on using standard power washing when it comes to roofing, when our Miami no pressure roof cleaning is clearly the way to go. In the competitive world of roof and exterior cleaning most people ask us why traditional pressure washing methods are not a good idea. The truth is, you might end up doing more harm than good.
While the power washer is a great and effective tool for cleaning it doesn't make it the ideal one for all situations. Roofing material can be delicate and you can end up destroying or damaging your rooftop without even realizing it. This can mea issues like broken shingles or water trapped under shingles. You may end up causing mold instead of washing it away.
This kind of washing technique is ideal for hard, flat surfaces like removing mildew for decks. But roofing is not the same. Pressure washing your roof could very easily shorten the life instead of extend it. So don't let anyone convince you that it is still the best way to go since research now indicates differently.
No Pressure Roof Cleaning Experts
That's where Big Green Men comes into the picture. We are known for our South Florida no-pressure roof cleaning solutions. This is still going to help remove dirt, algae and mold but by breaking it up without breaking up your shingles. If your rooftop is more than a few years old this also makes it more susceptible to damage from high power washing. But our method not only cleans the roof it prolongs the life.
The reason your roof got dirty in the first place is due in large part to algae. If not taken care of properly, this problem can actually spread instead of be eradicated while using standard washing methods. So what you get with the method we use is an eco-friendly way to actually rid the problem.
We use a battery powered pump that applies our Eco cleaning formula to the roof. There is no water being used, no rinsing of the formula so it stays on the roof and cleans like a magic eraser. Then it hardens into a seal coat that protects the roof from the elements of nature and it eliminates mold and algae 100%.
South Florida No Pressure Roof Cleaning
The best part is that our approach to cleaning your Miami roof is that the results last longer. Plus, there is no residual damage to your tiles, shingles, aluminum or whatever material you have. Stop taking chances with the long term condition of your rooftop by using a cleaning system that is outdated, when it comes to roofing.
We know what it takes to truly take care of your rooftop. Don't be fooled by other companies that still use the wrong method. Trust BiBig Green Menor our no pressure roof cleaning.
---
Recent Roof Cleaning Related Articles
What to Find in Roof Cleaning Services

If you need to get the roof to your house cleaned off you should find a professional group that offers roof cleaning services. It helps to take a look at a couple of important factors when checking out one of these groups. These can make an […]

House Washing & Roof Cleaning: Use This Combination to Clean Your Home

When you own a home, you know the amount of effort it takes to keep the house in perfect condition. The cleaning it requires almost weekly, fortnightly or monthly, suiting your requirements and needs. But still with all these efforts, your house does gather the most […]
Give Your Coral Springs Pressure Washing & Industrial Specialist a Call Today!