Seal Coating To Extend The Lifespace Of Your South Florida Driveway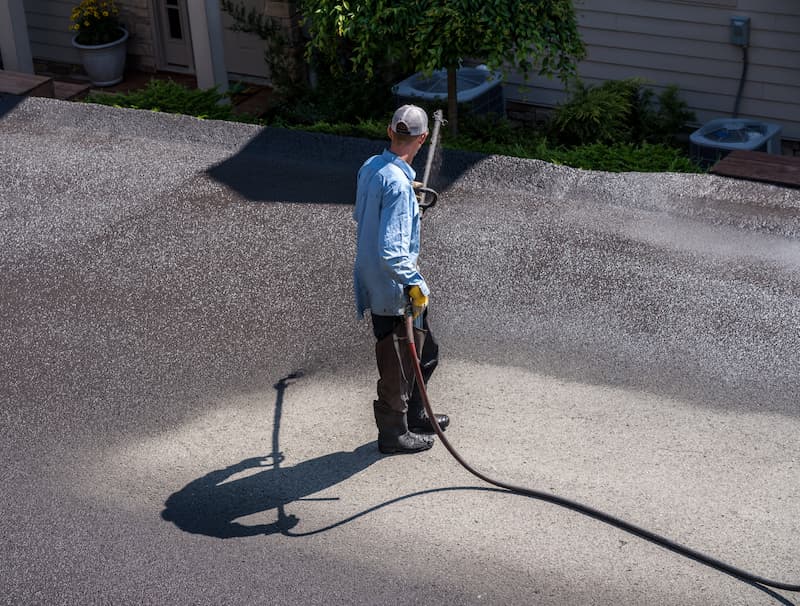 If you love what Big Green Men can do for your Miami property with pressure washing, imagine what we can do with seal coating. We offer services such as asphalt sealing because after we expertly clean your outdoor surfaces, we want to be able to protect them for you. Sealing exterior surfaces offers an additional layer of protection that can do wonders for specific features of your property.
Your paved surfaces aren't going to last forever, but with a suitable coating and ongoing maintenance, they'll last a long time and much longer than without protection. The great news is that professionally applied sealcoating can also help reduce the number of repairs you need, saving you money and aggravation.
Failure to have seal coating installed will drastically shorten the longevity of your driveway, parking lot, or other paved surfaces. Let us provide you with quality cleaning and sealing to maximize the lifespan and improve the appearance of your asphalt.
Driveway Sealcoating
If your driveway is still out there, unprotected and vulnerable to the elements, you're only doing yourself a disservice. Set your paved surfaces up for success by sealcoating them. Even better, let the preferred company that handles pressure washing for Miami homes and businesses take care of your sealcoating.
We know what kind of hardships and conditions your driveway is exposed to since we're the ones cleaning the mess off of it in the first place. We'll be glad to wash away the grime and accumulated debris and then install a coating to safeguard the surface.
Some of the advantages of professionally sealing your pavement are:
Prevent water intrusion - Coating fills existing cracks, reducing the chances that water will find its way beneath the asphalt pavement.
Improves skid resistance - The coating replenishes surface particles that help enhance traction.
Easier cleaning and maintenance - The enhanced top layer makes it much easier to clean and maintain.
Better flexibility - And better flexibility means less rigidity that causes cracks and damage from tension or the freeze-thaw cycle.
Cost-effectiveness - It costs less to install a protective top seal than to keep paying for repairs and replacement.
Our Experts Will Help You
For the best seal coating in the area, trust Big Green Men. We go the extra mile to take good care of our clients.
If you're ready to improve your Miami property with seal coating, give us a call. Let us show you why we're the top choice in the area for all of the services that we offer.
Give Your Coral Springs Pressure Washing & Industrial Specialist a Call Today!