Professional Roof Seal Coating Service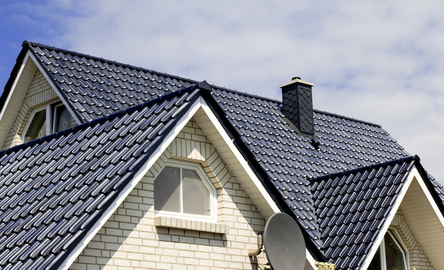 When you need your roof seal coated, call the professionals at Big Green Men. We provide full roofing service for homes across South Florida. Our entire team of roofers and contractors are Florida certified and licensed in all roofing areas that include painting, cleaning and roof seal coating. You can rely on us for fast service, dependable work, and affordable rates. We work closely with each of our clients from start to finish in order to insure that you are completely satisfied with the job. Seal coating provides ultimate protection for your roof as well as other benefits.
Enjoy Complete Energy Savings
With seal coating your entire home benefits from ultimate protection from the hot Florida sun. Seal coating your roof reduces home cooling costs by up to 20% which helps your air conditioner run more efficiently. Reflective coatings works by directing the the sun's U.V. rays away from your home keeping your home cool all summer longer. So no matter what room in the home you're in, you'll feel the cool air from your air conditioner. When your AC doesn't have to work so hard, its will last longer and not require as much maintenance.
Protect Your Roof Today
Seal Coating your roof creates the ultimate waterproof against rain, humidity and moisture. It is designed to seal your roof from leaks and drips. No matter how hot or humid the Florida weather gets, you can depend on seal coat to protect your roof and give it a long life. Seal coat will cut down on repairs and ongoing roof maintenance that can be costly over a long period of time. Seal coat also resists dirt and grime which keeps your roof looking beautiful at all times. Your roof's surface will retain it's beauty throughout the year.
Unparalleled Quality
Our sealcoat provides your home with superior protection and gives your roof unmatched longevity and durability. Sealcoat from Big Green Men is created from the highest quality raw materials, is lab-tested, and has also proven to be environmentally safe for both homeowners and construction workers. We stand behind both our products and our work. We work closely with each of our clients through every phase of seal coat installation so that there's no hassle and no guesswork.
BiBig Green Menffers These Service:
Power Washing Service
Pressure Washing Services
House Washing Services
Pressure Cleaning
Concrete Pressure Washing
Roof Seal Coating
Give Your Coral Springs Pressure Washing & Industrial Specialist a Call Today!