Superior Roof Painting in Miami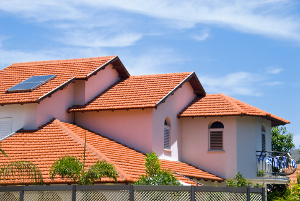 When you want results that last, hire Big Green Men for your next roof painting project. We specialize in high quality roof painting for all residential properties in Miami and the southern Florida area. We provide fast, efficient service, affordable rates, and work that you can depend on. Our entire team of roofing contractors are Florida certified and licensed in all areas of roofing. We can transform your old roof into a brand new beautiful roof that will improve your home's curb appeal and add value to your entire property.
We Restore Old Roofs
We at Big Green Men understand that getting your roof painted can be a challenging endeavor. Hail, wind, hurricanes, and hard rain can wear your roof down and make it vulnerable. It is our mission is to provide Miami homeowners with reliable, high quality roofing products that last a lifetime. We can paint any roof regardless of what it's made of or how complex the design. We provide full service on any roof that includes roof inspection, repairs or full replacement, and a full paint job that will give you roof the new look that it needs.
Choosing The Right Paint
Half the battle in getting your roof a brand new paint job is choosing the right paint. With exterior paint the key issue is using products that can withstand all the elements of Florida weather while retaining it's finish without cracking and chipping. All of this depends on the type of roof you have. There are several different types of roofing products across Southern Florida. This includes metal roofs, shingles, wood, tile, and even stone roofing. Some homes have flat roofing as an option. Each of these types of roofs require a totally unique kind of exterior paint.
Why You Should Choose Big Green Men
The experienced professionals at Big Green Men not only paint your home with absolute precision and care, but also leave your property clean and neat once the work is completed. Our painters employ a very systematic step by step process while working on your roof. Along with traditional designs we also create modern styles and patterns that enhance any roof and any home. We provide a full crew to complete the work in order to stay within established deadlines. We have flexible scheduling in order to cater to your personal needs. Next time hire a seasoned, experienced team of professionals for your next paint job.
---
Benefits of Elastomeric Roof Painting
---
Big Green Men Offers These Service:
Power Washing Service
Pressure Washing Services
House Washing Services
Pressure Cleaning
Concrete Pressure Washing
Roof Painting
Give Your Coral Springs Pressure Washing & Industrial Specialist a Call Today!