South Florida Driveway Power Washing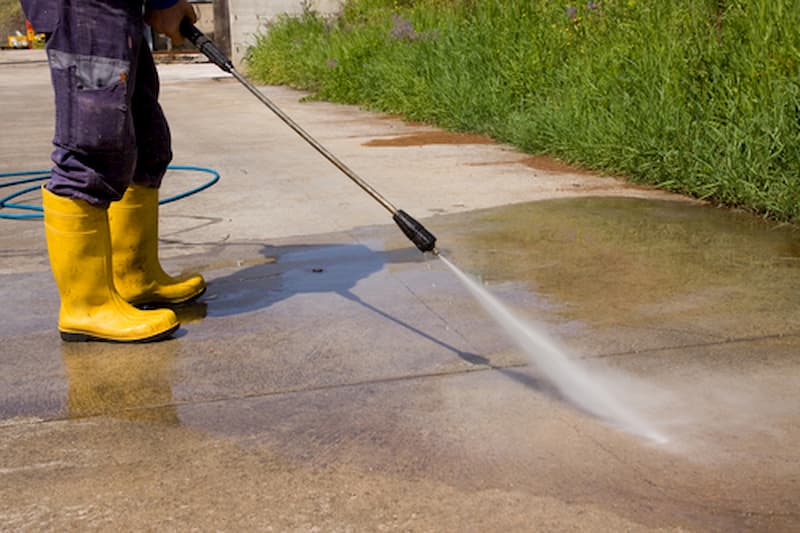 When it comes to making your home look immaculate, you have to think about every last detail right down to the professional South Florida driveway cleaning. It doesn't take much for your driveway to begin to look dirty and dingy. Most driveways are laid with various types of block paving that are generally very porous. Without proper maintenance on a regular basis, any damp weather will soon allow and encourage the growth of algae, moss and weeds.
Not to mention, problems like oil stains collect making the surface slick and unsightly. And if you have any anti-freeze leaks or spills this is not only unattractive it can be harmful to any animals that come into contact with it. So the best thing to do is to take care of keeping this surface clean by letting trained and experienced pros take care of the job for you. At Big Green Men this is exactly what our South Florida pressure washing professionals can do for you.
Professional Driveway Power Washing
Keeping driveways free from rust stains, oil stains, moss, mold and algae is very important for safety reasons, plus it helps keep your property looking nice. When these start to show up on your surface, it becomes very dangerous to walk on, especially when it becomes wet and slippery. Not to mention, you could be tracking that mold, mildew, oil and other substances into your home and onto your carpet or other flooring.
Cleaning concrete requires a little more pressure, hot water, high quality cleaning solutions and specialized equipment. This is much more than what you get from the pressure washer you rent for DIY jobs from your local home improvement store which lacks the ability to really get the job done. Of course, on the other hand, too much pressure can cause permanent damage to your surfaces so it is important to only work with true professionals who know what they are doing.
South Florida Driveway Power Washing
At Big Green Men we have everything necessary to complete the task including Customized Cleaning Solutions and Specialized Equipment. Once completed, your driveway and sidewalks will not only look great and be safe but also add curb appeal and value to your home. You will also save on your carpet cleaning expense by having clean surfaces outside and less dirt tracked into your home.
The idea of "doing it yourself" can quickly turn into a nightmare and a project you wish you had left alone. So why take the risk of damaging your concrete or not getting the surface clean enough? There is a much simpler way to get your South Florida driveway power washing taken care of and that's trusting our team of experts to handle the job for you. Our highly trained technicians will give you the results you need.
---
Recent Driveway Washing Repair Articles
Benefits of Miami Beach Driveway Cleaning

The outside of your home needs to look it's best at all times. You have no control over the amount of people that drive by and see the exterior appearance of your home. It is important that your home gives off the look of a clean, […]

South Florida Tips When Pressure Cleaning A Stained Driveway

Driveways are the most exploited features of the house. The most number of stains and spots can be found on the driveway. Some of the most common stains on driveways are fuel, oil and fungal and mildew stains. The most unsightly stains among these are patches […]
Give Your Coral Springs Pressure Washing & Industrial Specialist a Call Today!